Biography G.L. Gabriel-Thieler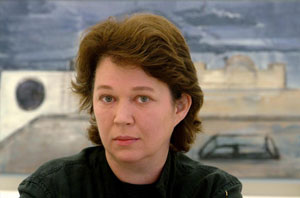 1958
born in Munich as Gabriele Lina Henriette Thieler
1959
the family moves to Berlin
1976- 81
studies painting at the Hochschule der Künste Berlin under K.H. Hödicke, graduation as master scholar.
1978
first studio in Berlin-Tiergarten
1979
first solo exhibition at the Galerie am Moritzplatz in Berlin
1981
1 st award for the competition "Kunst am Bau", Berlin
1982
scholarship and sojourn in Santo Domingo (Dominican Republic)
1984
working grant funded by the Kunstfonds Bonn, Goethe-Institut London
1986
first exhibition in Zurich, working in Argentina and Brazil
1987
invitation from the Berlin Senate to take part in the exhibition, "Berlin cityscapes" for the celebrations of the 750th anniversary of Berlin, study trip to Japan, Goethe House New York
1988
first solo exhibition in Paris, trip through Chile including working in the Atacama desert
1989
wall design in the lobby of the Berliner Tagesspiegel with the painting "Berlinbild"
1992-97
exhibitions in Germany and abroad
1994
taking part in the charity arts auction 'Artists for children', Berlin
1995
ZDF conference hall, Mainz, wall design with the painting 'Brandenburger Tor'
1994- 99
member of the jury for the 'Fred Thieler Painting Award'
1998
wall design in the Treptowers Berlin Allianz AG with the painting 'Reichstag'
solo exhibition Goethe Institut Damascus/solo exhibition Goethe Institut Porto
solo exhibition Goethe Institut Lissabon.
2000
wall design LBS-Potsdam with the painting "Große Philharmonie"
2003
art in the townhall, paintings in the offices of the governing mayor
2004
art in the Berlin Parliament, decoration of the conference room with three large-format cityscapes
2006
taking part in the exhibition 'Berlin in paintings' paintings since 1945, organised by the Stadtmuseum
G.L. Gabriel is living and working in Berlin